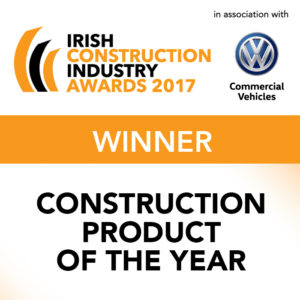 Keylite's roof window has been crowned 'Construction Product of the Year' at the Irish Construction Industry Awards 2017, which took place at a glittering ceremony at the Radisson Blu Golden Lane, Dublin on Tuesday 9th May.
The Keylite window is becoming the product of choice among many leading Irish house builders and its popularity grows as users discover the benefits first hand. The impact on demand has been dramatic with annual growth in excess of 20% as sales continue to outperform the market in Ireland.
The window achieves a major step forward in thermal efficiency by being equipped with a unique expanding collar as standard, addressing the critical thermal bridging issue that is now central in the drive for energy efficient homes. Keylite also simplified the fitting process for the installer with unique flick-fit brackets making the window easier to fit from inside the roof, enhancing the health and safety of construction staff.
Keylite Managing Director John Duffin commented; 'Our objective was to design a product which would address major issues that had been left unresolved by other products on the market. A combination of industry research and hands-on experience lies at the heart of this product's innovations, so we are naturally delighted to be recognised for our contribution by winning Construction Product of the Year.'
Launched in 2014, the Irish Construction Industry Awards is the premier event for benchmarking excellence within Ireland's construction industry. Find out more at https://www.constructionawards.ie/