<div class="WTFaded" ></div>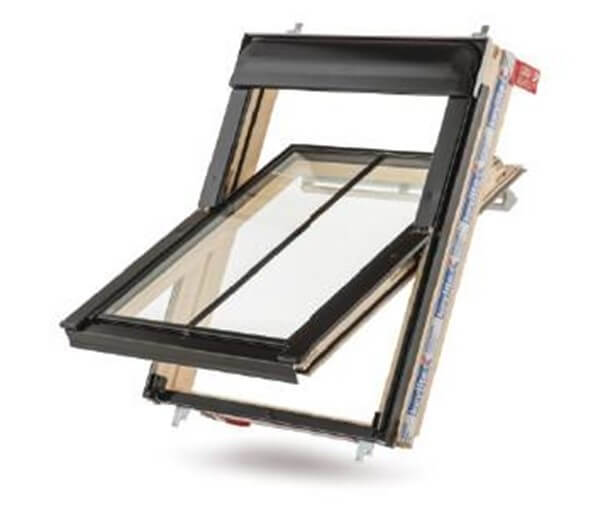 Conservation Roof Window
Keylite's Conservation Roof Window is designed to complement both renovation & new build projects in a traditional style.
It is ideal for use in a period style property, replicating the look of a traditional skylight.
The black central glazing bar and low profile external flashing maintain the traditional character of the building, whilst still accommodating the flow of natural light to the interior below.
Classic Design – White traditional in its external appearance, the standard Conservation Roof Window benefits from all of the Keylite features including thermal efficiency, low maintenance and ventilation control.
Centre Pivot – Centre Pivot Conservation Windows are available in Pine or White finish.
Thermal Performance – Only Keylite windows have an Expanding Thermal Collar, Warm Edge Glazing and a Streamlined Fit as standard, leading to enhanced thermal performance.
Top Hung – Top Hung/ Fire Escape Conservation roof windows available in pine or white finish.
<h1 id="SizesTitle" class="et_pb_text_align_center">Roof Window Sizes</h1><div class="rg-content"> <table class="rg-table"> <thead> <tr class="blank-row"><td> </td><td><div style="width: 28px;height: 39px;/* margin: 0 auto 10px auto; */dipslay: block;opacity: 0.3;background: #7bacdc;border: 2px solid #389afd;border: 2px solid #389afd;"></div></td><td style=""><div style="width: 28px;height: 49px;/* margin: 0 auto 10px auto; */dipslay: block;opacity: 0.3;background: #7bacdc;border: 2px solid #389afd;border: 2px solid #389afd;"></div></td><td><div style="width: 28px;height: 59px;dipslay: block;opacity: 0.3;background: #7bacdc;border: 2px solid #389afd;border: 2px solid #389afd;"></div></td><td><div style="width: 33px;height: 59px;dipslay: block;opacity: 0.3;background: #7bacdc;border: 2px solid #389afd;border: 2px solid #389afd;"></div></td><td><div style="width: 39px;height: 49px;dipslay: block;opacity: 0.3;background: #7bacdc;border: 2px solid #389afd;border: 2px solid #389afd;"></div></td><td><div style="width: 39px;height: 59px;dipslay: block;opacity: 0.3;background: #7bacdc;border: 2px solid #389afd;border: 2px solid #389afd;"></div></td><td><div style="width: 39px;height: 70px;dipslay: block;opacity: 0.3;background: #7bacdc;border: 2px solid #389afd;border: 2px solid #389afd;"></div></td><td><div style="width: 47px;height: 70px;dipslay: block;opacity: 0.3;background: #7bacdc;border: 2px solid #389afd;border: 2px solid #389afd;"></div></td><td><div style="width: 47px;height: 80px;dipslay: block;opacity: 0.3;background: #7bacdc;border: 2px solid #389afd;border: 2px solid #389afd;"></div></td><td><div style="width: 57px;height: 59px;dipslay: block;opacity: 0.3;background: #7bacdc;border: 2px solid #389afd;border: 2px solid #389afd;"></div></td><td><div style="width: 67px;height: 49px;dipslay: block;opacity: 0.3;background: #7bacdc;border: 2px solid #389afd;border: 2px solid #389afd;"></div></td><td><div style="width: 67px;height: 70px;dipslay: block;opacity: 0.3;background: #7bacdc;border: 2px solid #389afd;border: 2px solid #389afd;"></div></td></tr><tr><th class="text">Window Size</th> <th class="text" style="">550x780</th> <th class="text" style="">550x980</th> <th class="text" style="">550x1180</th> <th class="text" style="">660x1180</th> <th class="text" style="">780x980</th> <th class="text" style="">780x1180</th> <th class="text" style="">780x1400</th> <th class="text" style="">940x1400</th> <th class="text" style="">940x1600</th> <th class="text" style="">1140x1180</th> <th class="text" style="">1340x980</th> <th class="text" style="">1340x1400</th> </tr></thead> <tbody> <tr class=""> <td class="text tfinish" colspan="13">Pine Finish</td></tr><tr class=""> <td class="text" data-title="Window Size">Thermal</td><td class="text" data-title="550x780"><a href="https://shop.keyliteroofwindows.com/conservation-centre-pivot-window-thermal-glazed-cwcp01t">CW-CP-01-T</a></td><td class="text" data-title="550x980"><a href="https://shop.keyliteroofwindows.com/conservation-centre-pivot-window-thermal-glazed-cwcp02t">CW-CP-02-T</a></td><td class="text" data-title="550x1180"><a href="https://www.keyliteroofwindows.com/contact-us">CW-CP-01C-T</a></td><td class="text" data-title="660x1180"><a href="https://shop.keyliteroofwindows.com/conservation-centre-pivot-window-thermal-glazed-cwcp03t">CW-CP-03-T</a></td><td class="text" data-title="780x980"><a href="https://www.keyliteroofwindows.com/contact-us">CW-CP-04-T</a></td><td class="text" data-title="780x1180"><a href="https://shop.keyliteroofwindows.com/conservation-centre-pivot-window-thermal-glazed-cwcp05t">CW-CP-05-T</a></td><td class="text" data-title="780x1400"><a href="https://www.keyliteroofwindows.com/contact-us">CW-CP-06-T</a></td><td class="text" data-title="940x1400"><a href="https://www.keyliteroofwindows.com/contact-us">CW-CP-07F-T</a></td><td class="text" data-title="940x1600"><a href="https://www.keyliteroofwindows.com/contact-us">CW-CP-07-T</a></td><td class="text" data-title="1140x1180"><a href="https://www.keyliteroofwindows.com/contact-us">CW-CP-08-T</a></td><td class="text" data-title="1340x980"><a href="https://www.keyliteroofwindows.com/contact-us">CW-CP-09-T</a></td><td class="text" data-title="1340x1400"><a href="https://www.keyliteroofwindows.com/contact-us">CW-CP-10-T</a></td></tr><tr class=""> <td class="text" data-title="Window Size">Hi Therm</td><td class="text" data-title="550x780"><a href="https://www.keyliteroofwindows.com/contact-us">CW-CP-01-HT</a></td><td class="text" data-title="550x980"><a href="https://www.keyliteroofwindows.com/contact-us">CW-CP-02-HT</a></td><td class="text" data-title="550x1180"><a href="https://www.keyliteroofwindows.com/contact-us">CW-CP-01C-HT</a></td><td class="text" data-title="660x1180"><a href="https://www.keyliteroofwindows.com/contact-us">CW-CP-03-HT</a></td><td class="text" data-title="780x980"><a href="https://www.keyliteroofwindows.com/contact-us">CW-CP-04-HT</a></td><td class="text" data-title="780x1180"><a href="https://www.keyliteroofwindows.com/contact-us">CW-CP-05-HT</a></td><td class="text" data-title="780x1400"><a href="https://www.keyliteroofwindows.com/contact-us">CW-CP-06-HT</a></td><td class="text" data-title="940x1400"><a href="https://www.keyliteroofwindows.com/contact-us">CW-CP-07F-HT</a></td><td class="text" data-title="940x1600"><a href="https://www.keyliteroofwindows.com/contact-us">CW-CP-07-HT</a></td><td class="text" data-title="1140x1180"><a href="https://www.keyliteroofwindows.com/contact-us">CW-CP-08-HT</a></td><td class="text" data-title="1340x980"><a href="https://www.keyliteroofwindows.com/contact-us">CW-CP-09-HT</a></td><td class="text" data-title="1340x1400"><a href="https://www.keyliteroofwindows.com/contact-us">CW-CP-10-HT</a></td></tr><tr class=""> <td class="text tfinish" colspan="13">White Finish</td></tr><tr class=""> <td class="text" data-title="Window Size">Thermal</td><td class="text" data-title="550x780"><a href="https://www.keyliteroofwindows.com/contact-us">CW-WF-CP-01-T</a></td><td class="text" data-title="550x980"><a href="https://www.keyliteroofwindows.com/contact-us">CW-WF-CP-02-T</a></td><td class="text" data-title="550x1180"><a href="https://www.keyliteroofwindows.com/contact-us">CW-WF-CP-01C-T</a></td><td class="text" data-title="660x1180"><a href="https://www.keyliteroofwindows.com/contact-us">CW-WF-CP-03-T</a></td><td class="text" data-title="780x980"><a href="https://www.keyliteroofwindows.com/contact-us">CW-WF-CP-04-T</a></td><td class="text" data-title="780x1180"><a href="https://www.keyliteroofwindows.com/contact-us">CW-WF-CP-05-T</a></td><td class="text" data-title="780x1400"><a href="https://www.keyliteroofwindows.com/contact-us">CW-WF-CP-06-T</a></td><td class="text" data-title="940x1400"><a href="https://www.keyliteroofwindows.com/contact-us">CW-WF-CP-07F-T</a></td><td class="text" data-title="940x1600"><a href="https://www.keyliteroofwindows.com/contact-us">CW-WF-CP-07-T</a></td><td class="text" data-title="1140x1180"><a href="https://www.keyliteroofwindows.com/contact-us">CW-WF-CP-08-T</a></td><td class="text" data-title="1340x980"><a href="https://www.keyliteroofwindows.com/contact-us">CW-WF-CP-09-T</a></td><td class="text" data-title="1340x1400"><a href="https://www.keyliteroofwindows.com/contact-us">CW-WF-CP-10-T</a></td></tr><tr class=""> <td class="text" data-title="Window Size">Hi Therm</td><td class="text" data-title="550x780"><a href="https://www.keyliteroofwindows.com/contact-us">CW-WF-CP-01-HT</a></td><td class="text" data-title="550x980"><a href="https://www.keyliteroofwindows.com/contact-us">CW-WF-CP-02-HT</a></td><td class="text" data-title="550x1180"><a href="https://www.keyliteroofwindows.com/contact-us">CW-WF-CP-01C-HT</a></td><td class="text" data-title="660x1180"><a href="https://www.keyliteroofwindows.com/contact-us">CW-WF-CP-03-HT</a></td><td class="text" data-title="780x980"><a href="https://www.keyliteroofwindows.com/contact-us">CW-WF-CP-04-HT</a></td><td class="text" data-title="780x1180"><a href="https://www.keyliteroofwindows.com/contact-us">CW-WF-CP-05-HT</a></td><td class="text" data-title="780x1400"><a href="https://www.keyliteroofwindows.com/contact-us">CW-WF-CP-06-HT</a></td><td class="text" data-title="940x1400"><a href="https://www.keyliteroofwindows.com/contact-us">CW-WF-CP-07F-HT</a></td><td class="text" data-title="940x1600"><a href="https://www.keyliteroofwindows.com/contact-us">CW-WF-CP-07-HT</a></td><td class="text" data-title="1140x1180"><a href="https://www.keyliteroofwindows.com/contact-us">CW-WF-CP-08-HT</a></td><td class="text" data-title="1340x980"><a href="https://www.keyliteroofwindows.com/contact-us">CW-WF-CP-09-HT</a></td><td class="text" data-title="1340x1400"><a href="https://www.keyliteroofwindows.com/contact-us">CW-WF-CP-10-HT</a></td></tr></tbody> </table></div>
Roof Window Sizes
Select white or pine finish to reveal roof window sizes
<a class="et_pb_promo_button et_pb_button" href="https://keylite.it/help-centre/why-keylite/" style="font-weight:600;">Why Keylite?</a><!-- [et_pb_line_break_holder] --><p style="padding-top:4px;">Visit our Why Keylite? Page</p>