<div class="WTFaded" ></div>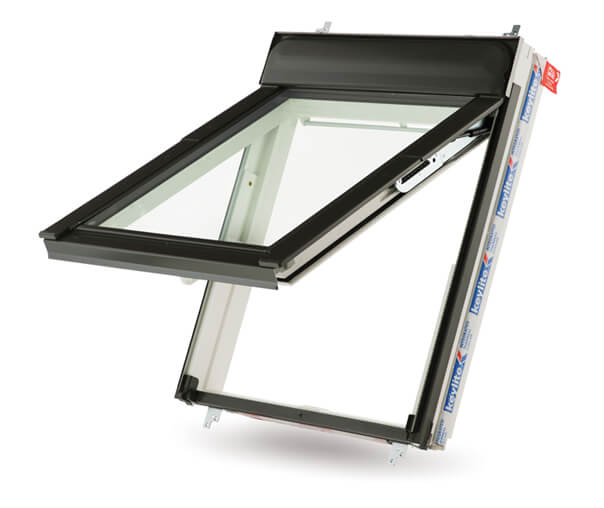 Fire Escape/ Top Hung Roof Window
The Keylite Fire Escape Roof Window opens to 45°, complying with statutory regulations.
This is ideal in low pitch roofs as the window opens outward, maximising the daylight that enters the room without the sash encroaching on your valuable internal space.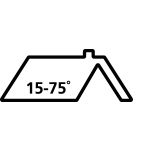 Means of Escape – as means of escape the window opens to an unobstructed area for safe exit, in the event of an emergency. The opening handle located at the bottom is easily accessible.
Easy to Use – the multi-stop opening feature allows the user to simply push the window to any position between 0 – 45 and remain open for maximum flexibility.
Effective Ventilation – this is provided by the vent flap at the top of the window which regulates the air flow, even when the window is closed.
Thermal Performance – Only Keylite windows have an Expanding Thermal Collar, Warm Edge Glazing and a Streamlined Fit as standard, leading to enhanced thermal performance.
*Important: Check with your local Building Control Dept. with regards to the position of the window.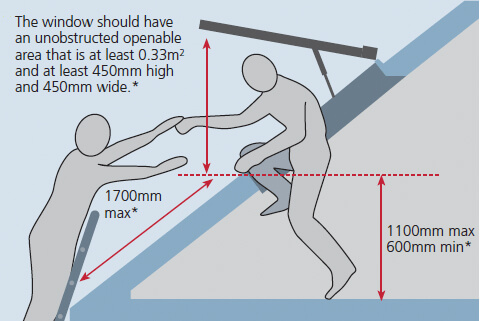 Expanding Thermal Collar
Just pull the tapes and the foam expands to fill the gap between the window and the roof timbers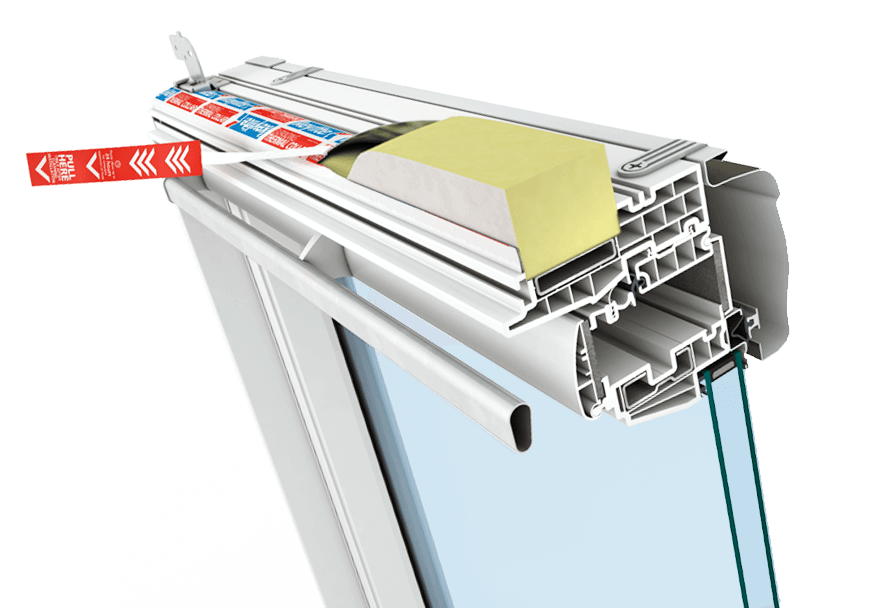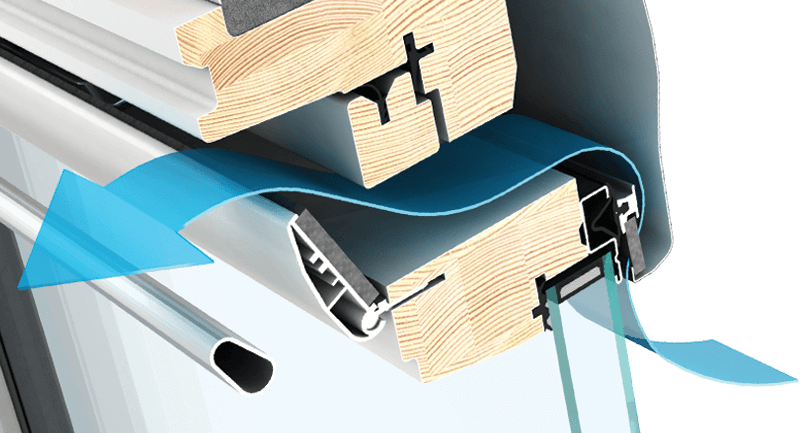 All Weather Ventilation
Keylite Roof Windows all provide trickle ventilation, even with the window fully closed and securely locked.
Ventilation Filter
The built-in insect filter ensures only clean, fresh air passes into the room.
Streamlined
All our roof windows are recessed for an in roof look.
Streamlined
All our roof windows are recessed for an in roof look.
<h1 id="SizesTitle" class="et_pb_text_align_center">Roof Window Sizes</h1><div class="rg-content"> <table class="rg-table"> <thead> <tr class="blank-row"><td> </td><td style=""><div style="width: 28px;height: 49px;/* margin: 0 auto 10px auto; */dipslay: block;opacity: 0.3;background: #7bacdc;border: 2px solid #389afd;border: 2px solid #389afd;"></div></td><td><div style="width: 28px;height: 59px;dipslay: block;opacity: 0.3;background: #7bacdc;border: 2px solid #389afd;border: 2px solid #389afd;"></div></td><td><div style="width: 33px;height: 59px;dipslay: block;opacity: 0.3;background: #7bacdc;border: 2px solid #389afd;border: 2px solid #389afd;"></div></td><td><div style="width: 39px;height: 49px;dipslay: block;opacity: 0.3;background: #7bacdc;border: 2px solid #389afd;border: 2px solid #389afd;"></div></td><td><div style="width: 39px;height: 59px;dipslay: block;opacity: 0.3;background: #7bacdc;border: 2px solid #389afd;border: 2px solid #389afd;"></div></td><td><div style="width: 39px;height: 70px;dipslay: block;opacity: 0.3;background: #7bacdc;border: 2px solid #389afd;border: 2px solid #389afd;"></div></td><td><div style="width: 47px;height: 70px;dipslay: block;opacity: 0.3;background: #7bacdc;border: 2px solid #389afd;border: 2px solid #389afd;"></div></td><td><div style="width: 47px;height: 80px;dipslay: block;opacity: 0.3;background: #7bacdc;border: 2px solid #389afd;border: 2px solid #389afd;"></div></td><td><div style="width: 57px;height: 59px;dipslay: block;opacity: 0.3;background: #7bacdc;border: 2px solid #389afd;border: 2px solid #389afd;"></div></td><td><div style="width: 67px;height: 49px;dipslay: block;opacity: 0.3;background: #7bacdc;border: 2px solid #389afd;border: 2px solid #389afd;"></div></td><td><div style="width: 67px;height: 70px;dipslay: block;opacity: 0.3;background: #7bacdc;border: 2px solid #389afd;border: 2px solid #389afd;"></div></td></tr><tr><th>Window Type</th><th style="background-color: #cacaca;text-align: center;">Top Hung</th><th class="text tfinish" colspan="10" style=" background-color: #f2f2f2; ">Fire Escape</th></tr><tr><th class="text">Window Size</th> <th class="text tophung-cell">550x980</th> <th class="text" style="">550x1180</th> <th class="text" style="">660x1180</th> <th class="text" style="">780x980</th> <th class="text" style="">780x1180</th> <th class="text" style="">780x1400</th> <th class="text" style="">940x1400</th> <th class="text" style="">940x1600</th> <th class="text" style="">1140x1180</th> <th class="text" style="">1340x980</th> <th class="text" style="">1340x1400</th> </tr></thead> <tbody> <tr class=""> <td class="text tfinish" colspan="13">Pine Finish</td></tr><tr class=""> <td class="text" data-title="Window Size">Thermal</td><td class="text tophung-cell" data-title="550x980"><a href="https://shop.keyliteroofwindows.com/top-hung-window-thermal-glazed-th02t">TH-02-T</a></td><td class="text" data-title="550x1180"><a href="https://www.keyliteroofwindows.com/contact-us">FE-01C-T</a></td><td class="text" data-title="660x1180"><a href="https://shop.keyliteroofwindows.com/top-hung-window-thermal-glazed-th03t">FE-03-T</a></td><td class="text" data-title="780x980"><a href="https://shop.keyliteroofwindows.com/top-hung-window-thermal-glazed-th04t">FE-04-T</a></td><td class="text" data-title="780x1180"><a href="https://shop.keyliteroofwindows.com/top-hung-window-thermal-glazed-th05t">FE-05-T</a></td><td class="text" data-title="780x1400"><a href="https://shop.keyliteroofwindows.com/top-hung-window-thermal-glazed-th06t">FE-06-T</a></td><td class="text" data-title="940x1400"><a href="https://www.keyliteroofwindows.com/contact-us">FE-07F-T</a></td><td class="text" data-title="940x1600"><a href="https://shop.keyliteroofwindows.com/top-hung-window-thermal-glazed-th07t">FE-07-T</a></td><td class="text" data-title="1140x1180"><a href="https://shop.keyliteroofwindows.com/top-hung-window-thermal-glazed-th08t">FE-08-T</a></td><td class="text" data-title="1340x980"><a href="https://www.keyliteroofwindows.com/contact-us">FE-09-T</a></td><td class="text" data-title="1340x1400"><a href="https://www.keyliteroofwindows.com/contact-us">FE-10-T</a></td></tr><tr class=""> <td class="text" data-title="Window Size">Hi Therm</td><td class="text tophung-cell" data-title="550x980"><a href="https://shop.keyliteroofwindows.com/top-hung-window-hi-therm-glazed-th02ht">TH-02-HT</a></td><td class="text" data-title="550x1180"><a href="https://www.keyliteroofwindows.com/contact-us">FE-01C-HT</a></td><td class="text" data-title="660x1180"><a href="https://shop.keyliteroofwindows.com/top-hung-window-hi-therm-glazed-th03ht">FE-03-HT</a></td><td class="text" data-title="780x980"><a href="https://shop.keyliteroofwindows.com/top-hung-window-hi-therm-glazed-th04ht">FE-04-HT</a></td><td class="text" data-title="780x1180"><a href="https://shop.keyliteroofwindows.com/white-finish-top-hung-window-thermal-glazed-wfth05t">FE-05-HT</a></td><td class="text" data-title="780x1400"><a href="https://shop.keyliteroofwindows.com/white-finish-top-hung-window-thermal-glazed-wfth06t">FE-06-HT</a></td><td class="text" data-title="940x1400"><a href="https://www.keyliteroofwindows.com/contact-us">FE-07F-HT</a></td><td class="text" data-title="940x1600"><a href="https://shop.keyliteroofwindows.com/top-hung-window-hi-therm-glazed-th07ht">FE-07-HT</a></td><td class="text" data-title="1140x1180"><a href="https://shop.keyliteroofwindows.com/top-hung-window-hi-therm-glazed-th08ht">FE-08-HT</a></td><td class="text" data-title="1340x980"><a href="https://www.keyliteroofwindows.com/contact-us">FE-09-HT</a></td><td class="text" data-title="1340x1400"><a href="https://www.keyliteroofwindows.com/contact-us">FE-10-HT</a></td></tr><tr class=""> <td class="text" data-title="Window Size">Triple Glazed</td><td class="text tophung-cell" data-title="550x980"><a href="https://www.keyliteroofwindows.com/contact-us">TH-02-KTG</a></td><td class="text" data-title="550x1180"><a href="https://www.keyliteroofwindows.com/contact-us">FE-01C-KTG</a></td><td class="text" data-title="660x1180"><a href="https://www.keyliteroofwindows.com/contact-us">FE-03-KTG</a></td><td class="text" data-title="780x980"><a href="https://www.keyliteroofwindows.com/contact-us">FE-04-KTG</a></td><td class="text" data-title="780x1180"><a href="https://www.keyliteroofwindows.com/contact-us">FE-05-KTG</a></td><td class="text" data-title="780x1400"><a href="https://www.keyliteroofwindows.com/contact-us">FE-06-KTG</a></td><td class="text" data-title="940x1400"><a href="https://www.keyliteroofwindows.com/contact-us">FE-07F-KTG</a></td><td class="text" data-title="940x1600"><a href="https://www.keyliteroofwindows.com/contact-us">FE-07-KTG</a></td><td class="text" data-title="1140x1180"><a href="https://www.keyliteroofwindows.com/contact-us">FE-08-KTG</a></td><td class="text" data-title="1340x980"><a href="https://www.keyliteroofwindows.com/contact-us">FE-09-KTG</a></td><td class="text" data-title="1340x1400"><a href="https://www.keyliteroofwindows.com/contact-us">FE-10-KTG</a></td></tr><tr class=""> <td class="text" data-title="Window Size">Secure</td></td><td class="text tophung-cell" data-title="550x980"><a href="https://www.keyliteroofwindows.com/contact-us">TH-02-KS</a></td><td class="text" data-title="550x1180"><a href="https://www.keyliteroofwindows.com/contact-us">FE-01C-KS</a></td><td class="text" data-title="660x1180"><a href="https://www.keyliteroofwindows.com/contact-us">FE-03-KS</a></td><td class="text" data-title="780x980"><a href="https://www.keyliteroofwindows.com/contact-us">FE-04-KS</a></td><td class="text" data-title="780x1180"><a href="https://www.keyliteroofwindows.com/contact-us">FE-05-KS</a></td><td class="text" data-title="780x1400"><a href="https://www.keyliteroofwindows.com/contact-us">FE-06-KS</a></td><td class="text" data-title="940x1400"><a href="https://www.keyliteroofwindows.com/contact-us">FE-07-FKS</a></td><td class="text" data-title="940x1600"><a href="https://www.keyliteroofwindows.com/contact-us">FE-07-KS</a></td><td class="text" data-title="1140x1180"><a href="https://www.keyliteroofwindows.com/contact-us">FE-08-KS</a></td><td class="text" data-title="1340x980"><a href="https://www.keyliteroofwindows.com/contact-us">FE-09-KS</a></td><td class="text" data-title="1340x1400"><a href="https://www.keyliteroofwindows.com/contact-us">FE-10-KS</a></td></tr><tr class=""> <td class="text tfinish" colspan="13">White Finish</td></tr><tr class=""> <td class="text" data-title="Window Size">Thermal</td><td class="text tophung-cell" data-title="550x980"><a href="https://shop.keyliteroofwindows.com/white-finish-top-hung-window-thermal-glazed-wfth02t">WF-TH-02-T</a></td><td class="text" data-title="550x1180"><a href="https://www.keyliteroofwindows.com/contact-us">WF-FE-01C-T</a></td><td class="text" data-title="660x1180"><a href="https://shop.keyliteroofwindows.com/white-finish-top-hung-window-thermal-glazed-wfth03t">WF-FE-03-T</a></td><td class="text" data-title="780x980"><a href="https://shop.keyliteroofwindows.com/white-finish-top-hung-window-thermal-glazed-wfth04t">WF-FE-04-T</a></td><td class="text" data-title="780x1180"><a href="https://shop.keyliteroofwindows.com/white-finish-top-hung-window-thermal-glazed-wfth05t">WF-FE-05-T</a></td><td class="text" data-title="780x1400"><a href="https://shop.keyliteroofwindows.com/white-finish-top-hung-window-thermal-glazed-wfth06t">WF-FE-06-T</a></td><td class="text" data-title="940x1400"><a href="https://www.keyliteroofwindows.com/contact-us">WF-FE-07F-T</a></td><td class="text" data-title="940x1600"><a href="https://shop.keyliteroofwindows.com/white-finish-top-hung-window-thermal-glazed-wfth07t">WF-FE-07-T</a></td><td class="text" data-title="1140x1180"><a href="https://shop.keyliteroofwindows.com/white-finish-top-hung-window-thermal-glazed-wfth08t">WF-FE-08-T</a></td><td class="text" data-title="1340x980"><a href="https://www.keyliteroofwindows.com/contact-us">WF-FE-09-T</a></td><td class="text" data-title="1340x1400"><a href="https://www.keyliteroofwindows.com/contact-us">WF-FE-10-T</a></td></tr><tr class=""> <td class="text" data-title="Window Size">Hi Therm</td><td class="text tophung-cell" data-title="550x980"><a href="https://www.keyliteroofwindows.com/contact-us">WF-TH-02-HT</a></td><td class="text" data-title="550x1180"><a href="https://www.keyliteroofwindows.com/contact-us">WF-FE-01C-HT</a></td><td class="text" data-title="660x1180"><a href="https://www.keyliteroofwindows.com/contact-us">WF-FE-03-HT</a></td><td class="text" data-title="780x980"><a href="https://www.keyliteroofwindows.com/contact-us">WF-FE-04-HT</a></td><td class="text" data-title="780x1180"><a href="https://www.keyliteroofwindows.com/contact-us">WF-FE-05-HT</a></td><td class="text" data-title="780x1400"><a href="https://www.keyliteroofwindows.com/contact-us">WF-FE-06-HT</a></td><td class="text" data-title="940x1400"><a href="https://www.keyliteroofwindows.com/contact-us">WF-FE-07F-HT</a></td><td class="text" data-title="940x1600"><a href="https://www.keyliteroofwindows.com/contact-us">WF-FE-07-HT</a></td><td class="text" data-title="1140x1180"><a href="https://www.keyliteroofwindows.com/contact-us">WF-FE-08-HT</a></td><td class="text" data-title="1340x980"><a href="https://www.keyliteroofwindows.com/contact-us">WF-FE-09-HT</a></td><td class="text" data-title="1340x1400"><a href="https://www.keyliteroofwindows.com/contact-us">WF-FE-10-HT</a></td></tr><tr class=""> <td class="text" data-title="Window Size">Triple Glazed</td><td class="text tophung-cell" data-title="550x980"><a href="https://www.keyliteroofwindows.com/contact-us">WF-TH-02-KTG</a></td><td class="text" data-title="550x1180"><a href="https://www.keyliteroofwindows.com/contact-us">WF-FE-01C-KTG</a></td><td class="text" data-title="660x1180"><a href="https://www.keyliteroofwindows.com/contact-us">WF-FE-03-KTG</a></td><td class="text" data-title="780x980"><a href="https://www.keyliteroofwindows.com/contact-us">WF-FE-04-KTG</a></td><td class="text" data-title="780x1180"><a href="https://www.keyliteroofwindows.com/contact-us">WF-FE-05-KTG</a></td><td class="text" data-title="780x1400"><a href="https://www.keyliteroofwindows.com/contact-us">WF-FE-06-KTG</a></td><td class="text" data-title="940x1400"><a href="https://www.keyliteroofwindows.com/contact-us">WF-FE-07F-KTG</a></td><td class="text" data-title="940x1600"><a href="https://www.keyliteroofwindows.com/contact-us">WF-FE-07-KTG</a></td><td class="text" data-title="1140x1180"><a href="https://www.keyliteroofwindows.com/contact-us">WF-FE-08-KTG</a></td><td class="text" data-title="1340x980"><a href="https://www.keyliteroofwindows.com/contact-us">WF-FE-09-KTG</a></td><td class="text" data-title="1340x1400"><a href="https://www.keyliteroofwindows.com/contact-us">WF-FE-10-KTG</a></td></tr><tr class=""> <td class="text" data-title="Window Size">Secure</td><td class="text tophung-cell" data-title="550x980"><a href="https://www.keyliteroofwindows.com/contact-us">WF-TH-02-KS</a></td><td class="text" data-title="550x1180"><a href="https://www.keyliteroofwindows.com/contact-us">WF-FE-01C-KS</a></td><td class="text" data-title="660x1180"><a href="https://www.keyliteroofwindows.com/contact-us">WF-FE-03-KS</a></td><td class="text" data-title="780x980"><a href="https://www.keyliteroofwindows.com/contact-us">WF-FE-04-KS</a></td><td class="text" data-title="780x1180"><a href="https://www.keyliteroofwindows.com/contact-us">WF-FE-05-KS</a></td><td class="text" data-title="780x1400"><a href="https://www.keyliteroofwindows.com/contact-us">WF-FE-06-KS</a></td><td class="text" data-title="940x1400"><a href="https://www.keyliteroofwindows.com/contact-us">WF-FE-07F-KS</a></td><td class="text" data-title="940x1600"><a href="https://www.keyliteroofwindows.com/contact-us">WF-FE-07-KS</a></td><td class="text" data-title="1140x1180"><a href="https://www.keyliteroofwindows.com/contact-us">WF-FE-08-KS</a></td><td class="text" data-title="1340x980"><a href="https://www.keyliteroofwindows.com/contact-us">WF-FE-09-KS</a></td><td class="text" data-title="1340x1400"><a href="https://www.keyliteroofwindows.com/contact-us">WF-FE-10-KS</a></td></tr></tbody> </table></div>
Roof Window Sizes
Select white or pine finish to reveal roof window sizes
<a class="et_pb_promo_button et_pb_button" href="https://keylite.it/help-centre/why-keylite/" style="font-weight:600;">Why Keylite?</a><!-- [et_pb_line_break_holder] --><p style="padding-top:4px;">Visit our Why Keylite? Page</p>