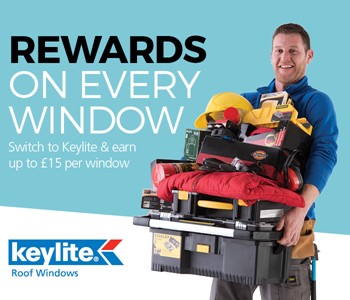 Over 1500 installers across the UK and Ireland have already signed up to the Keylite #Switched2 Rewards promotion, and due to popular demand and overwhelmingly positive feedback, Keylite have announced that they are extending the rewards promotion until December 31st.
Keylite are full of festive cheer and in the run up to Christmas we want to give installers and merchants every opportunity to maximise their return from the promotion.  We are encouraging installers to keep their cash in their pocket for that all important Christmas shopping by switching to Keylite, as vouchers can be earned on EVERY Keylite window purchased, which can be spent on any goods at the merchants where the windows were bought.
Feedback from installers and merchants has pinpointed the promotion's success to the fact that it is win-win for both merchants and installers.  Increased margin and repeat business for merchants while installers earn Rewards vouchers with every window, on top of all the installer-friendly features that are built into the Keylite window as standard.
Keylite's Installer Rewards scheme is merchant friendly and what makes it unique from others is that the rewards are not for high street, instead the rewards vouchers come back through the merchant's tills, creating repeat business. MINIMAL EFFORT: MAXIMUM RETURN.
Installers and Merchants who have not signed up to participate can still do so by visiting Switched2.com or by speaking to their local Keylite Sales Manager.