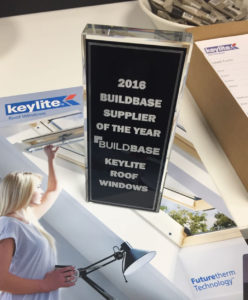 Keylite have been recognised again for their outstanding customer service, winning Buildbase Supplier of the Year for the second consecutive year.
Buildbase are one of the UK's largest group of Builders Merchants in the UK, and part of Grafton Group PLC, with just under 200 Branches.  Commenting on awarding Keylite Supplier of the Year once again, Kate Tinsley, Chief Executive Officer Buildbase UK, remarks that 'Keylite winning Buildbase Supplier of the Year for the second consecutive year demonstrates their outstanding service in the sector.  The entire team at Keylite work closely with our business, in a highly proactive and personable way.  Typical of the feedback from our branches, who all have a free vote in this award, is that Keylite's  approach is refreshing, they always deliver on what they say they will and  their customer service, product innovation and communications are excellent.  For me personally, with Keylite nothing is ever a problem'.
The award comes shortly after Keylite were crowned BMN UK supplier of the Year 2016, the highest accolade a supplier can receive in the industry, and a year of record growth for the Keylite brand both in the UK and across Europe.  John Duffin, Keylite Managing Director, is delighted at the recognition that Keylite continues to get for leading the industry and setting the standard in customer service: 'Customer Service is the cornerstone of our business strategy, and genuinely every person in the entire Keylite business, will personally do whatever it takes to deliver for our customers, and it is that personal care and attention we know that sets us apart.  To be held up by our esteemed customers Buildbase for a second year in a row is quite something and gives myself and the entire team at Keylite even more incentive to repay that recognition by renewed focus and commitment to exceed Buildbase and all of our customers' expectations. 2017 is an exciting year for Keylite with very ambitious plans for growth, so this award is an extremely positive way to start the year'.