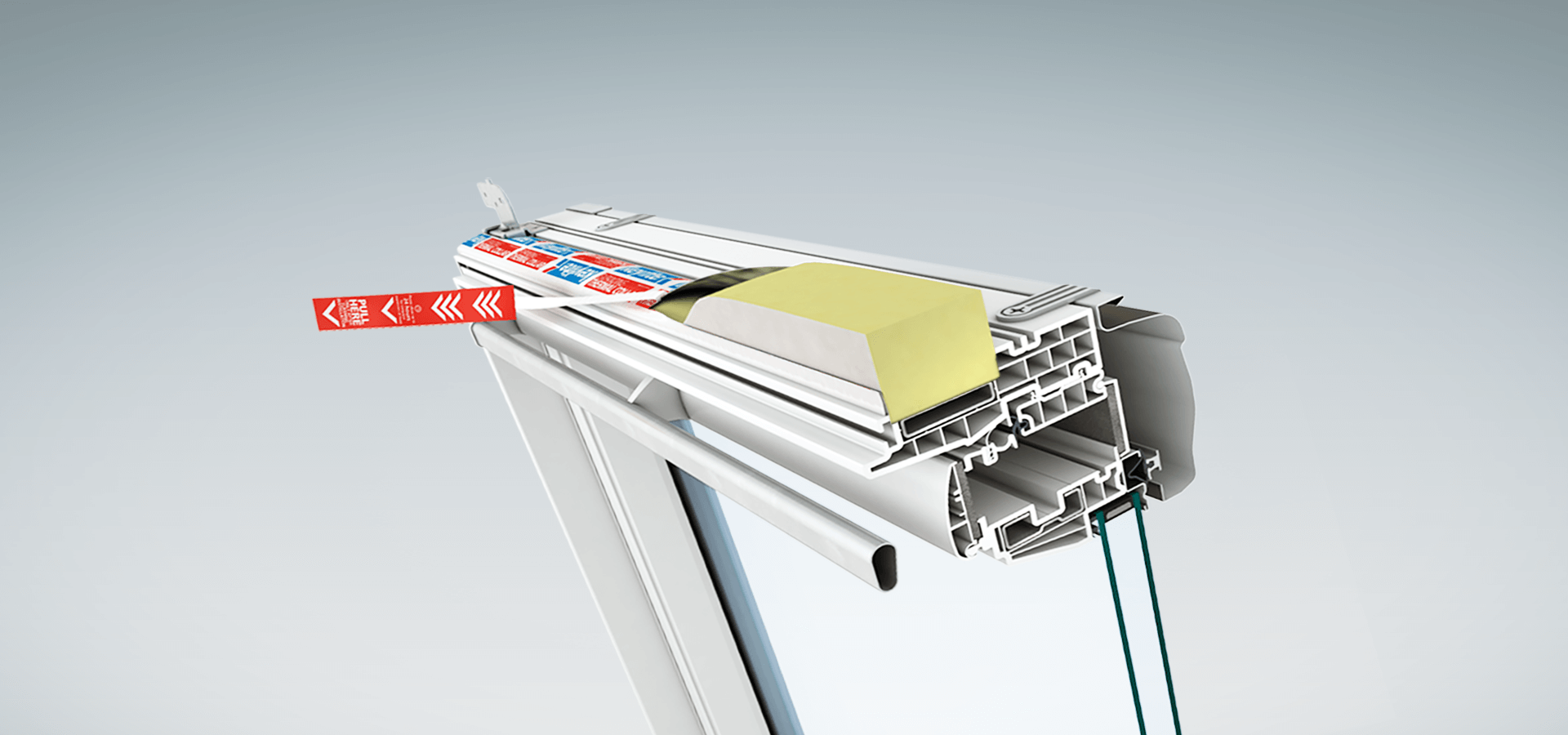 The worlds only roof window with an
Expanding Thermal Collar
97% of roof windows are installed without a proprietary thermal collar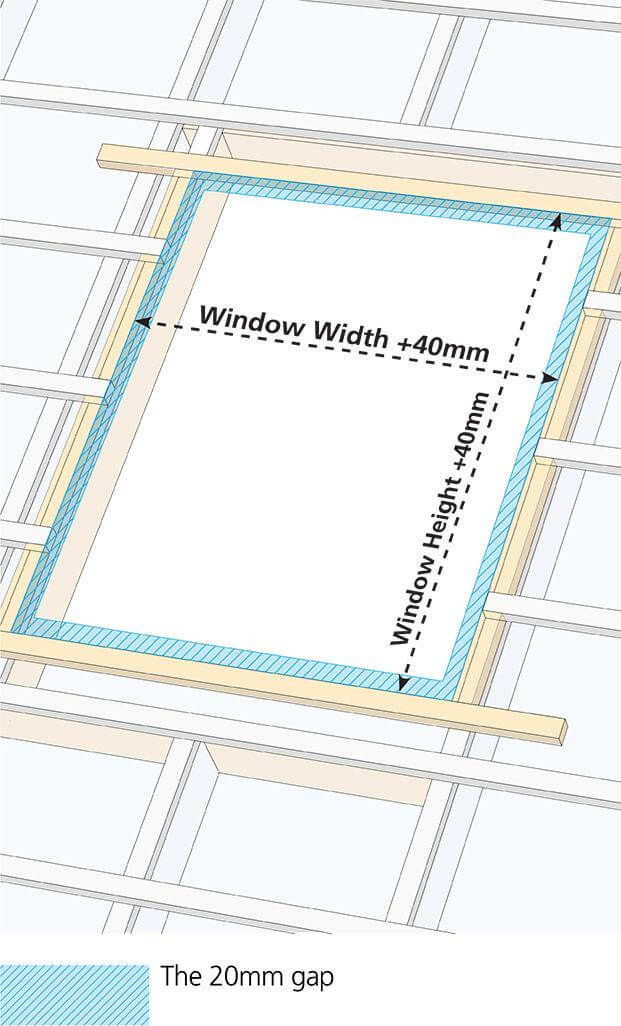 This is because thermal collars are expensive extras which are sold separately.
Keylite is the only manufacturer with an integrated thermal collar which expands to fill the gap.
At no extra cost.
The Gap
All manufacturers recommend that roof windows should be installed into an oversized opening in the roof. This results in a 20mm uninsulated "gap" around the perimeter of the window.
Obviously this "gap" needs to be insulated. Other manufacturers will sell you a separate Thermal Collar to insulate this "gap" (very few people actually purchase a separate thermal collar).
New building regulations are, for the first time, legislating for the cold bridging implications of roof windows. Thermal values (Psi) around the roof windows must now be considered.
Improvements to the overall air tightness and thermal performance of a home may lead to condensation problems unless careful design and construction practices are adopted.
Keylite guarantee to
insulate the gap.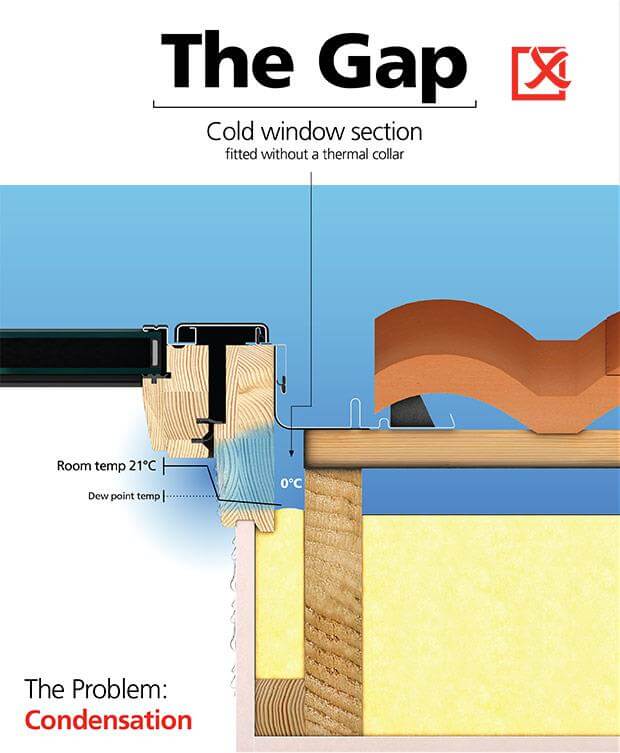 When left un-insulated, the gap in the roof allows a cold bridge through the frame, cooling the internal surface to below dew point temperature.*
This causes condensation to form on the frame which can run off onto surrounding surfaces with the risk of mould growth.
Cold Bridging
Condensation
Mould growth
*Based on surface condensation check completed to (BSEN ISO 13788), external temperature 0°C, internal temperature 21°C, typical UK Relative Humidity conditions.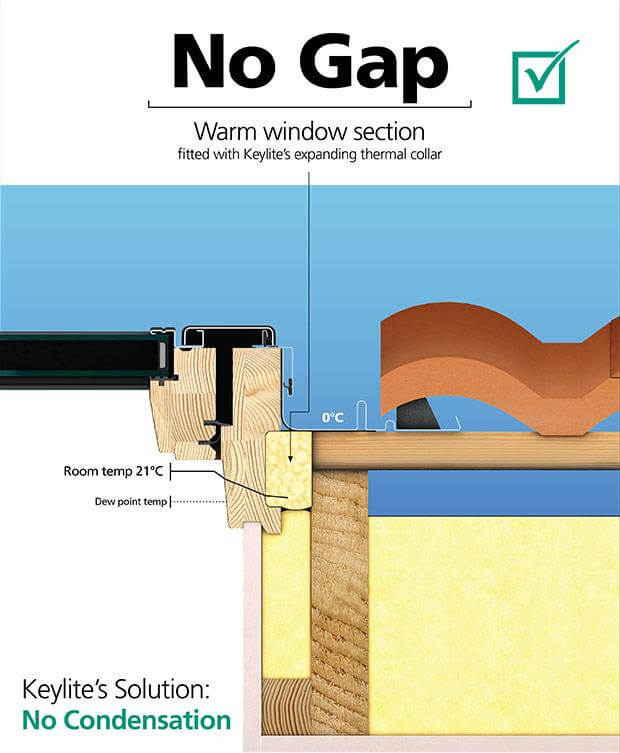 Only with Keylite do you get an Integral Thermal Collar that expands to fill and insulate this gap.
Other manufacturers will sell you a separate thermal collar to insulate this gap (Very few people actually purchase a separate thermal collar) and your installer may fail to insulate this gap.
No Extra Cost
Fully Insulated
No Condensation
How to Install Keylite Futuretherm Roof Windows