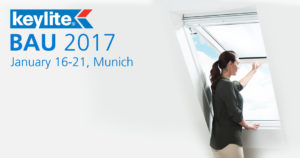 Keylite Roof Windows has recently established a new German division, Keylite Dachfenster GmbH to support the increasing demand for Keylite Roof Windows in Germany and across Europe.
Keylite will officially launch their German division at BAU Munich, taking place from January 16-21 2017. BAU is the World's leading trade fair for architecture, materials and systems in the construction industry. This is where future-oriented manufacturers come together with an audience of interested professionals. Their primary interests include the latest techniques, materials and applications that can be put to practical use.
Since establishing in 2001, Keylite has grown exponentially to its position as the fastest growing roof window manufacturer across Europe and is now available in 19 countries around the world.  Commenting on the launch into Germany, Keylite Managing Director John Duffin says:
'We are excited to invest in Germany and build our operation in the market with a new and growing sales force in place. At Keylite, we believe that every product should deliver the very best in innovation, quality, service and value. We have a relentless focus on research, development and design and have successfully introduced many new and innovative product enhancements over the past two decades. The growth of Keylite in Europe along with the setup of our team in Germany makes us more driven than ever to continue innovating and bringing improvements to the roof window industry'.
To find out more about BAU please visit: https://bau-muenchen.com/